Project Summary
Menu Spot
is a simple controller app for the
Spotify
® music streaming service that runs in your Mac's menu bar. It allows you to do the following:
Display the currently playing song and artist
Skip to the previous or next track
View details about the currently playing song, including which album its from, its duration (in minutes and seconds), its popularity rating within the Spotify user base, which track it on the album, and the URL of the song should you wish to share it with someone
View thumbnails of the album cover while playing and while getting song information
View a high resolution image of the album cover of the currently playing song
Pause and mute playback
Enable / disable playlist shuffling and repeating
Works in macOS' Dark mode
Choose whether to run it each time you login to your computer
And more...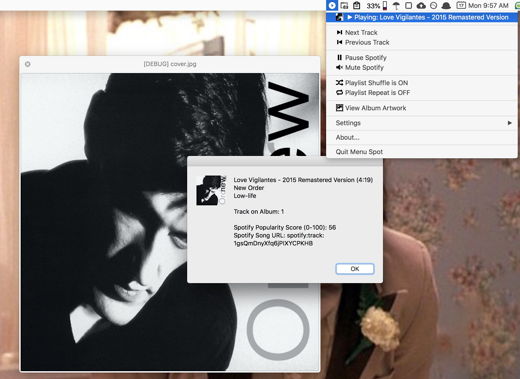 NOTE: I have tested this program on several of my machines running Sierra through Mojave and it works fine. Your mileage may vary, however, since I can't possibly test every system configuration.