Project Summary
TargetSpot
is an advertising platform that enables major brands to advertise their products and services to the ever-growing online audio listening audience. Originally developed as a work-for-hire project for CBS Radio and later spun-off as an independent company,
TargetSpot
broke new ground when it launched in 2007 and even today, remains one of the only advertising platforms designed specifically to monetize the rapidly growing Internet Radio market.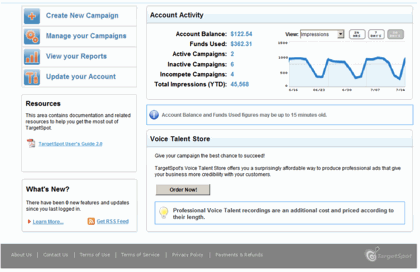 Current Status
TargetSpot
was an independent company from 2007 through 2013 when it was acquired by Radionomy.
My Contributions (as VP of Product)
Co-designer of the product as I took a vague concept and defined the functionality, workflow, and user experience for three generations of the TargetSpot platform by realizing over 200 product features spanning audio and video ad creation, campaign management, performance reporting, and the various internal administration tools needed to run the business (e.g. account management, user permissions, CMS, basic fraud detection, etc.).
Managed the product roadmap and successfully planned 63 consecutive product releases.
Wrote the initial requirements and sourced the development of the company's iOS SDK for mobile audio ads.
Wrote and maintained all user documentation and product-related collateral, including the 205 page User's Guide.
Provided first line customer support to help early adopters and gather the feedback needed to refine the product over time.
Demonstrated the platform to various strategic partners.
Designed various reporting and management tools for distribution partners (i.e. publishers).
Conducted research on how various advertising technologies such as behavioral targeting might be applied to the product.
Recruiting the company's original engineering team.