Project Summary
Upper Volta
is an enhanced replacement for macOS' built-in battery status indicator and supports the following functionality:
Displays the percent of battery charge, the remaining time left on the current battery charge, or the time remaining until the battery is fully charged
Toggle between a percent view of the battery charge or a time-based view using a user-defined global keyboard shortcut
See whether the Mac is connected to a power adapter or running on battery
See the number of battery cycles (charge cycles) used by your Mac's battery
See the condition and health of your battery (e.g., normal or needs servicing)
Shows a battery indicator that adjusts dynamically based on whether your Mac is running on battery, is connected to a power source, is charging, or is fully charged; it will also provide visual indicators as the battery charge drains
Choose to hide the battery indicator icon to free up menu bar space
Choose to hide time-based status information to free up menu bar space
Choose whether or not to run Upper Volta each time your Mac starts up
Very lightweight and uses minimal system resources
Works on macOS Big Sur, Monterey, and Ventura
It's free. Similar tools cost money!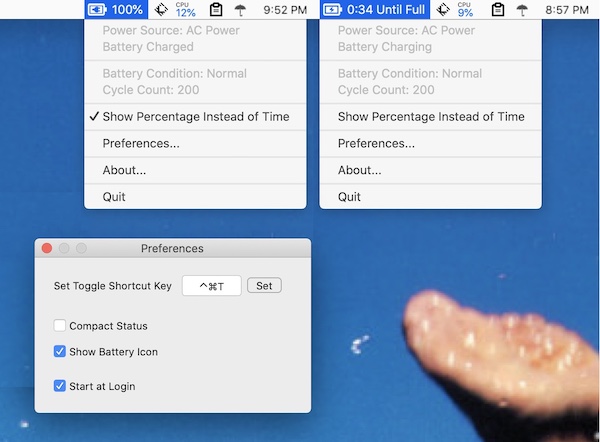 NOTE: The code bases of the Intel and Apple Silicon versions of this program are the same, so the functionality between them is identical, however, you should use the Apple Silicon version if you have an M1 or M2-based Mac.