Project Summary
MyHeavy
was
Heavy's
entry into the social networking arena and surprisingly innovative for its time. For starters, it had a rich, AJAX-based GUI that was several generations ahead of contemporaries such as
MySpace
,
Hi5
,
Friendster
and
AOL AIM pages
, which was no small feat in the days before cross-browser frameworks like jQuery, etc. Second, it had a full-featured messaging system that rivaled the functionality of many desktop email clients. Third, it made video management and sharing extremely easy. Users could take videos from other users' pages and add them to their own collections by merely dragging them over. It even supported multiple, simultaneous video uploads.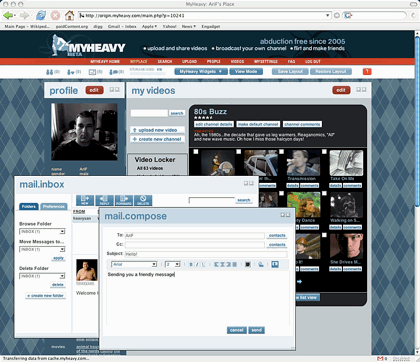 Status
MyHeavy
was an active property from 2006 through 2008. However, its core technology went on to eventually power all of Heavy.com's online properties and some of it may still be in use.
My Contributions (as Executive Producer)
Led all aspects of the product implementation from design through launch.
Created detailed specifications that defined all of the product's various systems, including user profile management, video management, publishing and sharing as well as the various tools required to administer a social networking site.
Managed the two man development team on an extremely aggressive schedule (~3 months).
Handled all QA and product testing, including filing and verifying over 500 issues and feature requests.
Worked with our developers to determine the type of hosting infrastructure the product would need to handle scale.
Wrote the product's copy and FAQs.
Demonstrated the application to internal parties and wrote the sales literature regarding the platform's capabilities.
Developed the product roadmap and comprehensive launch plan.